Sneakertrend 2022: High top sneakers
HIGH TOP SNEAKERS
High trainers for women are totally on trend this spring! This phenomenon will be seen many times in the fashion scene and you, as a fashionista, will of course join in. What we see in this trend is the colour combination of white and pastel shades. And the good news is... Maruti has the pair of high-top trainers for you!
As the name suggests, high top trainers are known for their height. Because your ankle is covered, they are ideal trainers for when the weather is a bit cooler. So, a must-have that also comes in handy in your shoe collection now. The high-top trainer trend is inspired by fashion trends from the 80s and 90s, where retro looks were central.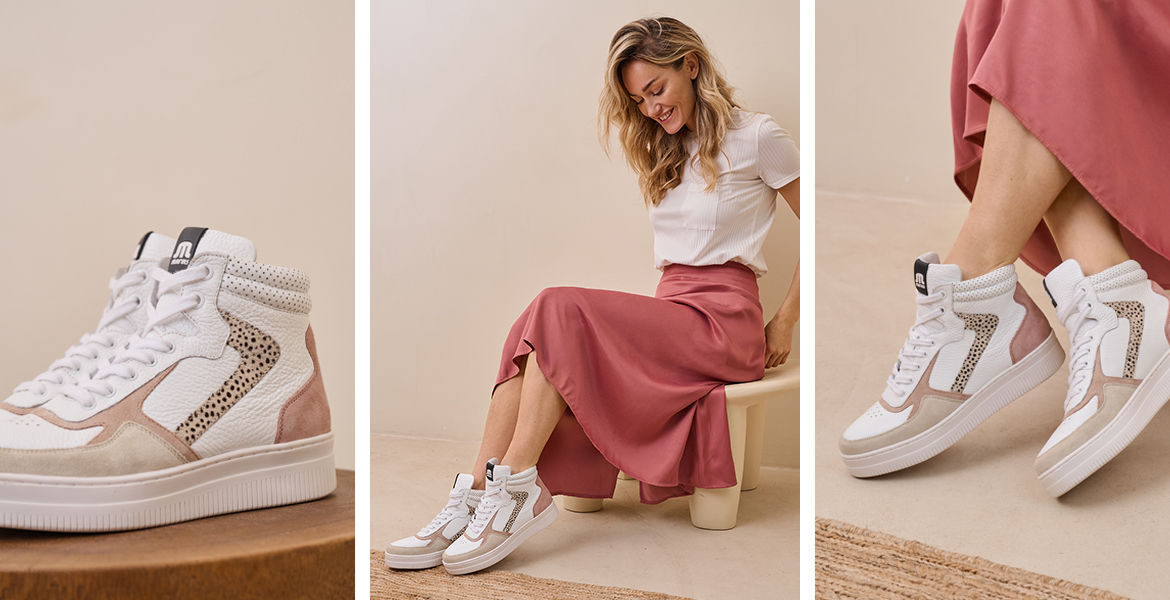 In the previous spring collection, we already introduced you to a high-top trainer, namely the Mona trainers in the colour white. To take it up a notch, we added a few Mona sneakers in fresh pastel shades to the spring collection. Totally top-notch! The trainers can be combined with different clothing styles. Here are some styling tips for you!
Styling tips for fashionistas!
As mentioned before, retro looks are very popular and ideal to combine with high trainers. Think about your favourite off-white jeans with pink pastel cardigan and the Maruti off-white pixel clutch. Are you more into dresses and skirts? Then go for a pleated skirt or pleated dress in a solid bright colour. This way, you can make your look a little more rugged.

For the more daring among us, you can add an extra touch to your look this spring. Make sure your favourite socks stand out above your trainers. Go for a bold print, a bright colour or stay more basic and cleaner with a neutral sock.
Even more trainer trends 2022 for you!
Colourful trainers
Another trainer trend for 2022 that you should definitely have is a colourful sneaker pair in all different colours, materials and prints. This trend is also known as the colourblock effect and is now an integral part of the fashion world.

Neutral trainers
The colours beige, off-white, nude and ecru are very hot this spring. We already saw this trend in various boots and now it's continued in trainers. The advantage of these colours is that they are easy to combine. Extra fashionable: go for a real on-trend look by combining the neutral trainer with an all beige or off-white outfit.